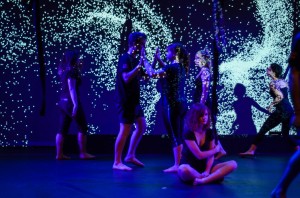 The Q is always eager to develop new collaborations with artists. Included below are some programs currently running for artists to connect with The Q and develop their creative practice here at the Joan Sutherland Performing Arts Centre. If you'd like to know more information about these programs or would like to connect with The Q further as a creative artist please contact The Q's Producer Nick Atkins on nick@jspac.com.au or (02) 4723 7623.
Q LAB is The Q's annual residency program. Projects included in Q LAB are selected through an annual open call process and are provided with space, technical and dramaturgical support. Q LAB is based on a commitment to supporting the development of independent artists and projects in the local area and the vibrancy that occurs as a result. Projects supported in 2015 include:
BANANAS IN THE BEDSIDE TABLE | Suzy Dunne
… is an original physical theatre piece that explores the impact of dementia and Alzheimer's disease on families and the greater community. The piece draws from personal experiences of this devastating disease by investigating the often humorous circumstances arising from it.
IF WE ARE MAD | Kay Armstrong
… explores all those who lie on the periphery of social acceptability, the unicorns amongst us that defy social norms and fly in the ace of convention. It is also about celebrating the strong women in our history who broke new grounds and challenged the status quo with work that wasn't always liked.
THE TALK | Mish Grigor
Eventually, all families have to have 'The Talk'. 
Whether it is meeting a new partner, or noticing a no longer concealable bump, eventually we must acknowledge that other members of our family are sexually active, hot-blooded creatures.
I WISH YOU WERE (STILL) | Cloe Fournier
I Wish You Were [Still] is a multidisciplinary work in progress. Cloe is interrogating the themes of suicide, mourning & loss within the context of Gen Y. She is using sociological and psychological research to develop her work.
DAD | Miranda Wheen
… is a retired furniture removalist and spare‐time philosopher and inventor. In Miranda's career as a dancer and choreographer she has been almost entirely dismissive of her Dad's choreographic visions, but for this residency she plans to try to realize them.
Once a month for nine months The Q brings together eight diverse young artists to congregate, collaborate and consider where they're heading next.
2015 Mentorship Artists:
Tom Lattimore
Felicity Pickering
Anastasia Denton
Brianna McCarthy
Aaron Dunne
Madeleine Slarks
Rhiannon McCarthur
Kate Bobis