Interview with Emily Sheehan
In just a few years after beginning her theatre training, Emily Sheehan won the 2015 Rodney Seaborn award for "Hell's Canyon", an award offered to encourage development of new Australian plays or performing arts projects emphasizing positive values.
Emily recently shared her insights in bringing "Daisy Moon" to life with The Joan's Theatre Programs Coordinator, Ian Zammit.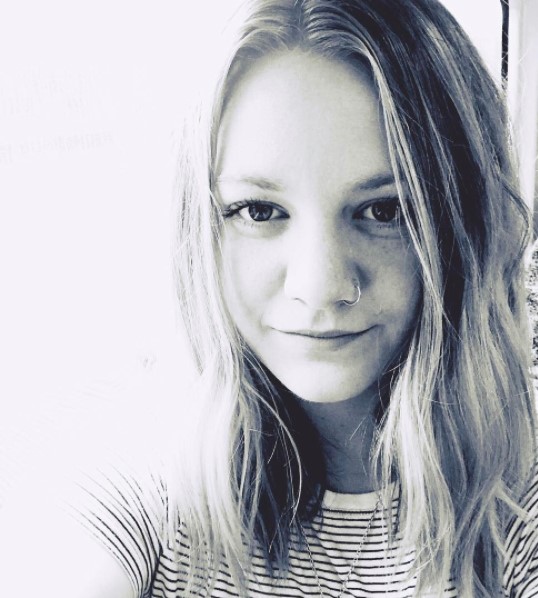 IZ: When did you identify as being a playwright? 
ES: Good question. I think that when you start off in the theatre, wanting to do drama at school, you're an actor, and the teacher directs you, so I first of all started off wanting to be an actor. It wasn't until I went to drama school: I hadn't thought any other role was even an option – I know it sounds funny but it's true! Through that I ended up interning at Playwriting Australia (PWA) and I was exposed to all these amazing contemporary Australian writers whose work I hadn't even studied – because in drama school you are studying people like Dennis Kelly or Sarah Kane. So I guess that it was through acting that I found writing and could say, yeah, that's my thing.
IZ: Do you remember a play that spoke to you? 
ES: I remember reading Lally Katz's "The Eisteddfod" and seeing Declan Green's "Eighty Gigabytes of Hardcore Pornography" when I was interning at PWA … There's so many plays so it's hard to pick one. It's more that I hadn't even considered writing and I was very lucky that I was in a dramaturgy internship which lead to (the question) "why don't you be in the young writers program?" It happened step by step. I felt so supported by very professional artists and theatre makers like Lachlan Philpott and Jane Bodie being my teachers – we are very lucky in Australia how small the industry is, so you can actually get to learn from these amazing writers early on in your writing journey, which I don't think everyone gets in other countries.
IZ: How did you get the internship into PWA? 
ES: It was actually after drama school while I was doing independent theatre in Sydney when I was doing the dramaturgy internship. They take in actors, directors, writers, and dramaturgs and I was there as an actor. Through that I got really interested in playwriting, and it went from there! I did my Masters in Playwriting at Victoria College of Arts (VCA) and I graduated in 2015. This (Daisy Moon) is my first professional production.
IZ: Have you had any other plays brought to life on stage? 
ES: When I was at the VCA I was really lucky that my play "Hell's Canyon" was being workshopped through PWA when it won the Rodney Seaborn award. Then was in the National Play Festival last year at The Malthouse, ad that opened up a bunch of doors including writing a play here (at Q Theatre) and I was also commissioned by Canberra Youth Theatre, which I did earlier this year.
IZ: How was seeing something of yours on stage for the first time? Can you go through what you learned from that? 
ES: It's so amazing. You have an idea in your head when you're writing a script, but because theatre is such a collaborative art form, it only gets better with every artist that comes on board. It's always beyond what you could have imagined. You don't realise how much of yourself is in the work until you see it on stage, but also how much of it is how much you have responded to what's been going on around you – people's ideas, what's been going on in the communities you interact with – you can really see them in the play.
I guess I love relationships. I'm such an actor person! I love actors, I love watching them try to connect. It's where I started with "Daisy Moon", with the idea of a brother and a sister. I come into a work thinking about "what is the relationship that exists within this world?" When you see actors perform them, you get to feel it, you actually fully understand what's going on. It's really special and so cool. The embarrassing answer is that when you are acting, you think, "acting is the coolest thing ever"… but then when you see four people seeing all these lines that you wrote, you think, "this is even better!" Before I was thinking, "I'm not going to write a play, why would I do that?", but now I see this is the kind of artist I am and for me this is better.
IZ: Did you find when you identified as a playwright, you found this was something important to you and you wanted to explore further? 
ES: Yes, you've got to make the work that you want to see on stage, the work that you love, the work that moves you. I think there's space for so many different playwrights in the industry: some of those styles I love and admire from afar, but if I tried to write in that style it wouldn't be the most authentic expression of those ideas. I think when you start you really do need to drop into: "Who are you? What do you think? What do you feel? What's going on for you?", and then you can discover how you can make the work you want to see from that palette, that's the way forward.
IZ: Looking at Daisy Moon…, what's the play about to you? 
ES: The simplest way to say it is that it's a sibling love story. It's a brother and a sister coming together: you're thrown together as kids and now they are older, they're choosing to be together, finding their friendship as adults. Underneath that the ideas I'm exploring is the idea of "being special", the idea of "being good enough". Daisy feels special when she connects to a superstar like Lady Gaga, being a fan – being connected to the best – makes her feel special and interesting; whereas Noah wants to be an elite athlete, and for him feeling special and feeling good enough is about being the best.
IZ: Noah is very happy being the star, or wanting to be, and yet it gets seriously challenged at the beginning of the play. Would it be fair to say that Daisy doesn't need any of that: she's happy to bask in the light of a star?
ES: Yes, completely! That makes her feel full of life, "I just want to be in that glow." It's also the idea of making some really epic mistakes, because everyone does. The first time you make the worst mistakes of your life and not having the tools to deal with them happen around this age, because you get the tools by going through them. I think they are learning how to make a mistake and still be ok with yourself, still like yourself – even if now you are the self that has both good sides and bad sides. The decisions you are making, both good and bad, make who you are and you realise ,"Whoah! who is this new identity?" You start to challenge the concept of yourself against your behaviour. The first time these mistakes start to happen with really big consequences, it's pretty confronting, and that's where the coming of age happens and they are forming their identity.
IZ: Now we are half way through rehearsals for Daisy Moon…, what's been the most challenging aspect of bringing it to life? 
ES: When we did our week-long development of the play, where I have the chance to write the first draft and test it with the safety net of a mock rehearsal with actors. That's when I realised that I needed to dig a bit deeper and amp a lot of it up. It was about finding emotional truth in it and also getting the script cleaner, more sparkly and polished so it would be more fun for the actors to perform. I went away and wrote the second draft and then we came into the room…
The script holds all this potential and all these ideas but the second you start making decisions you start closing down what it's going to be, which is the reality of making art. Things are great in concept but then you have to start making decisions, and that really starts to narrow the focus. I've gone from being by myself in my own writing studio, doing whatever I want, with all this potential; and now, we've got four actors in the space, a director, and a designer, and every choice they make is bringing it down to that pinpoint of what is the essence of the play. That's challenging as it puts a lot of pressure on you as a writer to actually stand for something, and to say, "This is what the play is about", and start pushing the audience to a specific location.
IZ: Does that also challenge you, as if to say what do you stand for?
ES: Yes, every single design choice – the colour of the tiles on the set, and saying, "what does that mean if they are gold rather than silver? Does it say more about Daisy's feminine identity or does it say more about Noah?", or what Lady Gaga songs we are using in the transition … you are building the world to add layers of meaning for the audiences understanding. If I was controlling the whole thing, it would be flat! We need everyone's ideas. You always want the creative team to be greater than the sum of its parts rather than a polite contest. That's the other challenging thing in the first weeks of rehearsal, you need to show up and do your best work possible, and that means you have to navigate sometimes having to play devil's advocate, and other times it means having to trust the decisions being made. The most concrete example of this is: there's a lot of comedy… I'm a sucker for a good sad story but the way to achieve that is to shine so much bright light through it. If you want to go sad, you've got to fill it with joy through the drama.
Daisy Moon Was Born This Way plays at The Joan 16 – 25 November 2017! Book now!
You can also find out more about Emily's work via her website: www.emilysheehan.info