Rehearsal: 3 August 2017, Thursday
It is crunch time at rehearsals for How to make a happy meal with the first performance about 1 week away!
The ensemble moved their rehearsal to the Concert Hall at The Joan today as the Allan Mullins Studio was occupied. Although, I thought the change in venue was apt as it made me feel like I was sitting in an actual performance presented live on stage already, which I feel is deserving for How to make a happy meal after seeing how far it has come from the early stages till today.
As usual, the ensemble kicked off their rehearsals with their warm up routine and moved on to a discussion about their progress and development. I sensed nervousness in the air, but I think that that is understandable with the actual performance happening very soon!
I truly admire the ensemble for being able to tackle the different and varied layers that are involved in How to make a happy meal. This is no easy feat when trying to produce a cohesive brand new work. Thus, I feel that in spite of the frustration or creative block they might have encountered throughout this process, they have definitely been on the right track from the very start by working hard together and by keeping an open mind.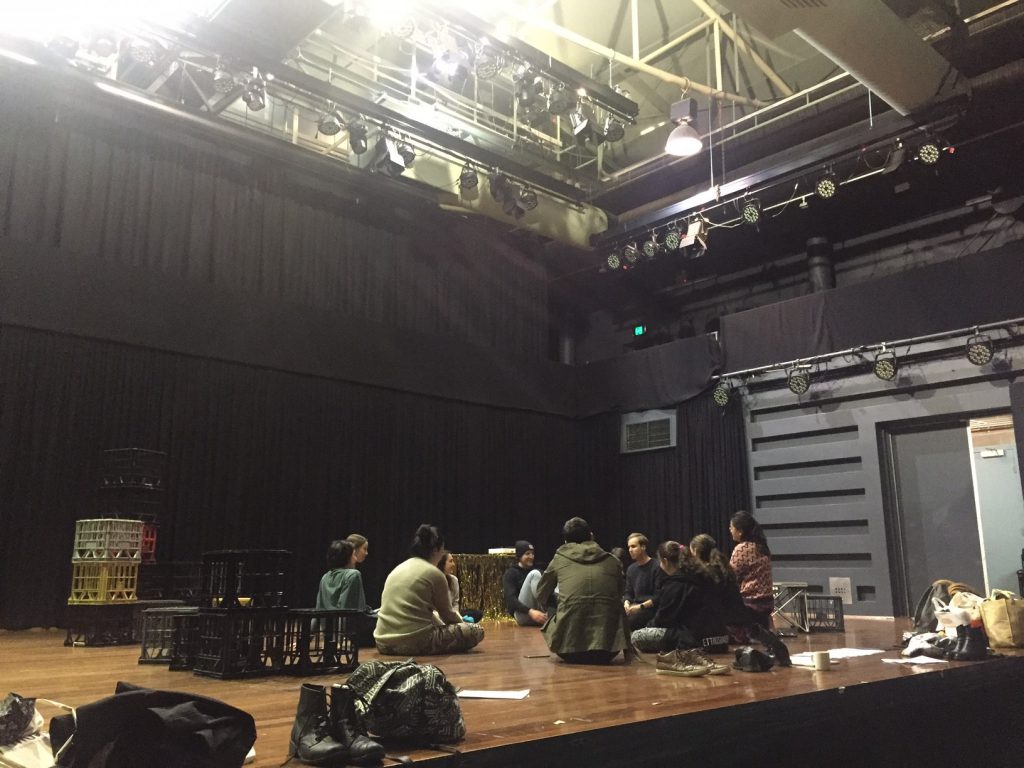 After discussion, the ensemble dived into running through their scenes. Nick gave them 2 minutes to themselves to prep and to absorb their individual roles. Sound artist, Tim, sets up his equipment and conducts a sonic warm up that fills up the Concert Hall space.
Meanwhile, Nick ensures the scenes, sequences and transitions from one scene to the next scene, are refined as it is crucial. I realised that it is extremely important that everyone from the ensemble understands their role in each scene. Hence, I observe Nick helping Vicky from the ensemble to ensure that she understands how she fits in the various scenes.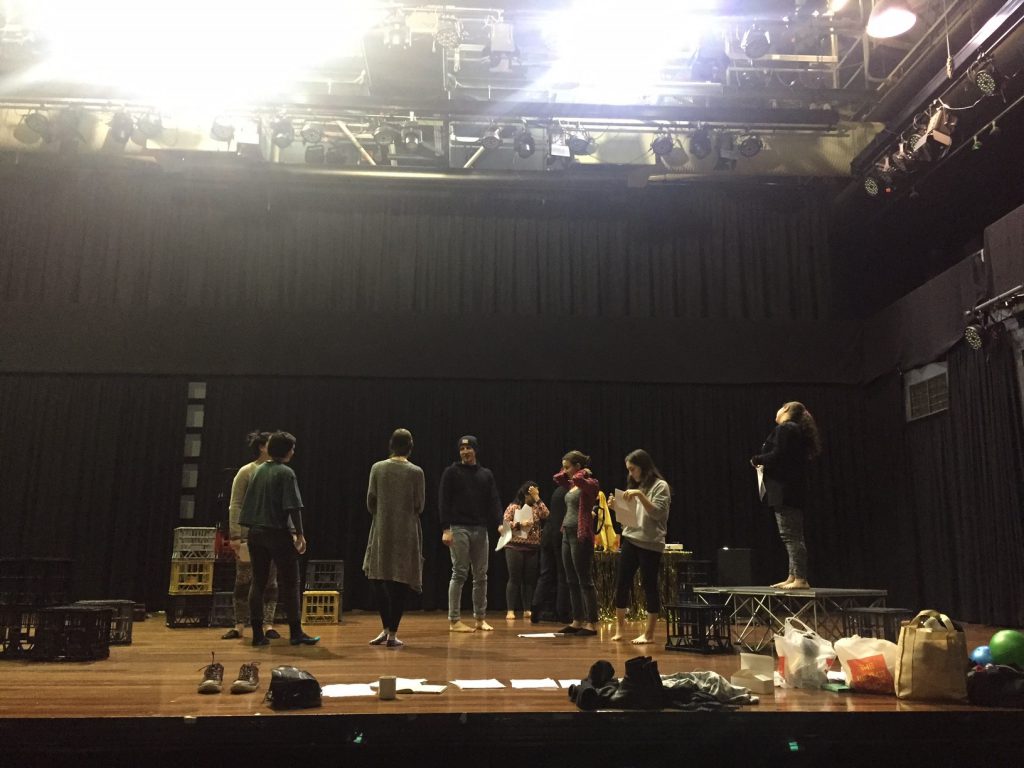 Following this, the ensemble run through scenes about "How to date a human", "How to dance like Britney", "How to conduct a kidney transplant", all of which are scenes that I have observed before at their previous rehearsals. However, at today's rehearsal, the ensemble seemed more confident and the scenes are more polished. I think the beauty of me having the privilege of sitting in the rehearsals to observe is that I have somehow experienced the growth of a project that derived from almost nothing, to something incredible!
The ensemble also work through placements of props on set, and they seemed determined to iron out every detail that is essential to this performance.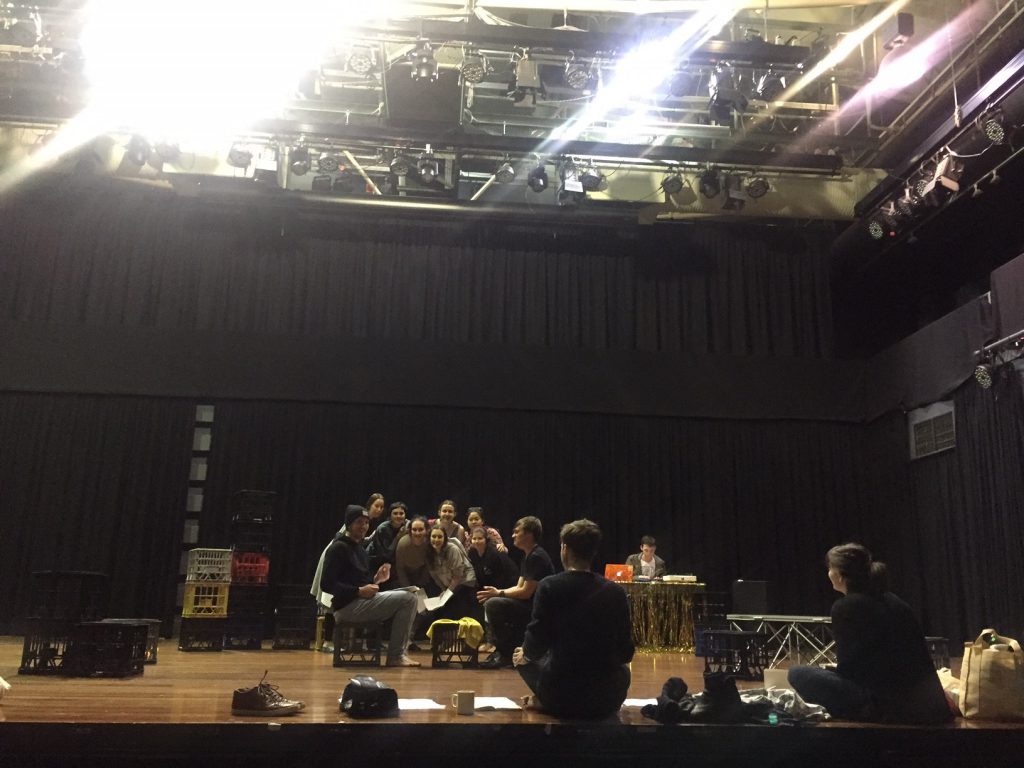 One of the scenes that I was particularly drawn to at today's rehearsal is a scene that features a conversation that involves questions, thoughts and issues that we unknowingly think about every day. I hear lines such as "How to be a sugar daddy", "How to make dog food taste better", "How to avoid conflict with your bus driver", "How to move to Bermuda and not pay GST", "How to walk past a beggar on the street". These are questions that dig deep, questions that you might not dare ask or think about out loud, and perhaps How to make a happy meal will finally offer you a platform and avenue to address these things.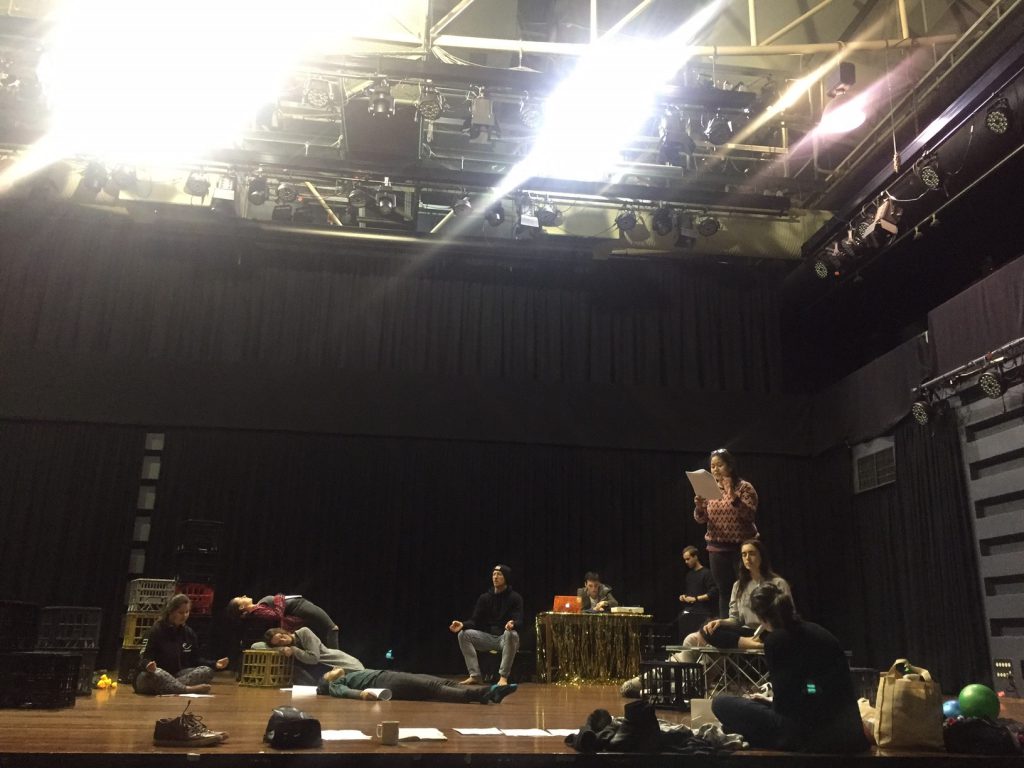 After which, I observe a scene that features a soundscape involving a combination of different tracks that were played in other scenes. This involves Tim building on different tracks to create a mix that in my opinion somehow illustrates the basis of how How to make a happy meal was created in the first place; different ideas, different talents, different disciplines, different layers, that come together as one.
Thereafter, the ensemble moved on to run through another scene. This would be the first time I have observed this scene that involves the song, "No Aphrodisiac" by The Whitlams (https://www.youtube.com/watch?v=8qi7SlM1eDk). The karaoke version of this song plays and Will from the ensemble sings along to it in an almost cheesy, quirky and out of tune manner, while the rest of the ensemble play the role of backup singers and dancers. Some of the lyrics to this song such as "a letter to you on a cassette, cause we don't write anymore" and "there's no aphrodisiac like loneliness, you shouldn't leave me alone", fit How to make a happy meal so well. The fact that a "cassette" is mentioned in the song, and that the song also talks about sadness, loneliness, love and happiness, contributes to the witty and sardonic element in the show.
This scene still requires fine tuning, so Claire steps in to help the ensemble. With her music expertise and background, she ensures that the ensemble keep to the same tempo when they sing. "La, la, la, la, la, la, ooh, ooh, ooh", the ensemble sings. Claire uses hand gestures that act as a visual aid for the ensemble to follow to ensure that they sing in the right tempo and the right pitch. They managed to nail their singing parts after several attempts!
After this, the ensemble moves on to another scene where they read lines as they pass each other a cassette.  A line is read out loud only when someone has a cassette in their hands, as though they are recording or storing their thoughts into a cassette, maybe even creating a mix tape of happiness, or loneliness?
I then hear lines such as "If he's in love with his ex, he's not the one", "If he sends you dick pics, he's not the one", and some of the lines even talk about Facebook likes and dislikes, which in my opinions adds an interesting dimension to the performance. They "store" their thoughts in a cassette, but their thoughts actually involve current ideas such as social media. I feel that this portrays a conversation between two different worlds, timelines and technology but they somehow all lead towards the same direction. That perhaps, it is somehow innate or just human nature that we have always been searching for ultimate happiness, and that we are still in search of the secret to happiness, be it 20 years ago or today.
I am extremely thrilled that I can finally watch How to make a happy meal live on stage very soon after all this time! If you have been reading this blog, I hope you will continue on this journey with me to experience the culmination of How to make a happy meal! Playing at The Joan 10 – 12 August, 7.30pm, be sure to book your tickets here! Definitely a performance not to be missed!
Forging Creative Connections
How to make a happy meal connects WSU alumni to Penrith's cultural hub.
Connections between Penrith's cultural hub, the Joan Sutherland Performing Arts Centre, and Western Sydney University continue to run deep, with The Q's newest work, How to make a happy meal involving two recent WSU Bachelor of Music graduates, Claire Tredinnick and Tim Drummond.
The Q is The Joan's contemporary theatre making production program, and How to make a happy meal is part of its annual Originate project. Now in its third year, Originate upskills early career performance makers working across Western Sydney and fosters a community of collaboration and cross disciplinary creative practice.
This project sees an ensemble of 10 young artists, including theatre makers, musicians, writers, poets, dancers and more, from Western Sydney, fusing different talents and skills to create a cutting-edge, quirky, fun and honest performance.
Being performed at The Joan from 10 – 12 August (get in quickly and get your tickets!) How to make a happy meal is co-directed by Nick Atkins (Creative Producer, New Work and Development) and Claire Tredinnick (Music Programs Coordinator).
Claire Tredinnick shares some insights into her first experience of hands-on cross-disciplinary improvisational arts practice:
"(we) have worked over the last few weeks researching stories, brainstorming, improvising on the floor, discussing, asking questions, writing, singing and dancing to create How to make a happy meal – a show that explores happiness, melancholy, loneliness, nostalgia, anxiety, listicles, politics, technology, and generally being a human on Earth today."
The brainstorming process cultivates growth for the performance, and for the artists in their own personal creative practice.
Considering her Western Sydney University experience and its contribution to the project, Tredinnick reflects:
"Nearly ten years after the fact, I still have a vivid memory of being fresh out of high school thrown into a room with a bunch of complete strangers in first semester of first year and being asked to improvise with them (um, what?!) Imagine that and then imagine that your instrument is the recorder – yes, that's right – the recorder (seriously though, look it up – it's like totally a legitimate instrument).
Group improvisation can be a terrifying, frustrating and completely bizarre experience but an equally fun and exhilarating one too, and I've been reminded of how great a tool it is when you're devising work such as this. That's quite a specific example I know but more generally speaking I guess would just say that I continue to find the collaborative, problem-solving and critical-thinking skills I learnt while at WSU, in particularly in those kinds of wacky exercises and tutorials, useful in my working life (Exhibit A – co-directing this show)."
With co-collaborator Tim Drummond being a recent graduate of the same course, Tredinnick is also conscious of their language of shared study as they've moved through the rehearsal process.
A process-based project such as this one offers room for exploration and experimentation. Tim Drummond has expanded his creative practice:
"I have been experimenting with the idea of sampling vocals and sound effects and turning them into a more pleasurable, song-like listening experience. How to make a happy meal has been really good for this! The crew has constantly drilled into me that there is no wrong answers and no wrong directions – so it has been a really good avenue for experimentation with sounds and ideas."
His Western Sydney University experience was pivotal in his musical journey:
"WSU is the reason I got into electronic music. I auditioned for the university degree as a vocalist and piano player but had no real interest in recording or synthesisers until I was exposed to them in the Sound Technologies units that the course offered. These are things I'm relying on really, really heavily in the sound design of this show."
Ideas and potential for collaboration between Western Sydney University and The Joan are given greater emphasis under the 2016 Memorandum of Understanding that binds both organisations. Under this partnership Penrith Performing & Visual Arts (The Joan and Penrith Regional Gallery & The Lewers Bequest) and WSU will work closely on developing innovative artistic programs and community events for the local region and beyond.
WSU students and graduates are encouraged to apply to be part of next year's Originate project, and to keep abreast of opportunities at The Joan, as well as sister site Penrith Regional Gallery & The Lewers Bequest.
"These kinds of projects, whilst being a fantastic learning opportunity (and hopefully a fun one), are also a great way to get to know other local early career artists – you never know, you might meet the Garfunkel to your Simon or the Lennon to your McCartney. This project is not just about upskilling and mentoring young artists and creating great art together but it's also designed to be a step to help motivate and inspire young artists to springboard into their next personal/collaborative creative endeavour with more skills and more confidence – we value the workshopping, rehearsal and collaborating process as much as the show at the end of the process (read more about it in our blog!)."
To book your tickets to How to make a happy meal that plays at The Joan 10-12 August or to find out more, visit How to make a happy meal 
Rehearsal: 27 July 2017, Thursday
Just about 4 weeks to the final performance of How to make a happy meal and rehearsals are getting intense. The performance is definitely solidifying and making great progress!
I'm in rehearsals this evening again, and as I walk into the Allan Mullins Studio, the ensemble has already kicked off with their usual routine warm up – ball game and zombie game.
Following this, they dive right into running through some scenes, and I must say I was very, very entertained.
The ensemble runs through a scene that features a self-help guide to dating. An audio tutorial about "How to date a human" plays from a cassette, and I hear things like "here, you are lonely and desperate, you are desperately lonely."
The ensemble then moves on to run through a scene featuring concepts like "How to transplant a kidney" and "How to dance like Britney". Some members of the ensemble recite step by step instructions to these concepts simultaneously, and this recitation is accompanied by a quirky soundscape created by sound artist, Tim, from the ensemble.
Based on my observation, it seems crucial that each scene is carefully blocked out, whereby the ensemble fully understands their movement and position in each scene. I believe this ensures a proper flow throughout the performance. Nick has done a terrific job in ensuring that the blocking of each scene is fine-tuned with great precision. He counts "1…2…3…4…", and the ensemble moves to a spot, he counts again "1…2…3…4…", and the ensemble moves to another spot. As this continues, I can tell that the ensemble is getting more confident in their movement.
How to make a happy meal is intriguing because you get to experience how different concepts and topics such as "How to dance like Britney", "How to transplant a kidney", "How to date a human" and even "How to smile when you are happy", are fused together in one scene. I feel that this unexpected combination of different concepts of happiness defines How to make a happy meal, that it is a performance that allows the audience to go on a journey to explore the secret to happiness.
The audio tutorial about "How to date a human" continues playing in the background during rehearsal and I hear "dating chump to dating champ". I told you, I was really entertained!
The ensemble continues to rehearse and they explore different ways of entering and starting a scene. Some explorations include a whacky dance that they break out into at the same time and also a scene that opens with some members of the ensemble helping to set up a table suitable for a date that sees a table cloth, a milk crate and a bunch of fake flowers being used. I think it is rather admirable that the ensemble is open to try new additions and options to each scene even at this stage. I feel that it truly shows their desire to further develop and improve this project.
Nick, Claire and the ensemble attempt to tighten each scene throughout today's rehearsal. They also experiment with new soundscapes that will accompany and perhaps even structure each scene. I've learned from sitting in today's rehearsal, that pacing is very important in a performance. In a performance, the audience follows the performer on a journey from start to finish, and I think the key to captivating an audience is to perform in a pace that the audience can keep up with. As much as the performer is performing for the audience, it is also essential for the performer to take charge of the performance and direct the audience's journey.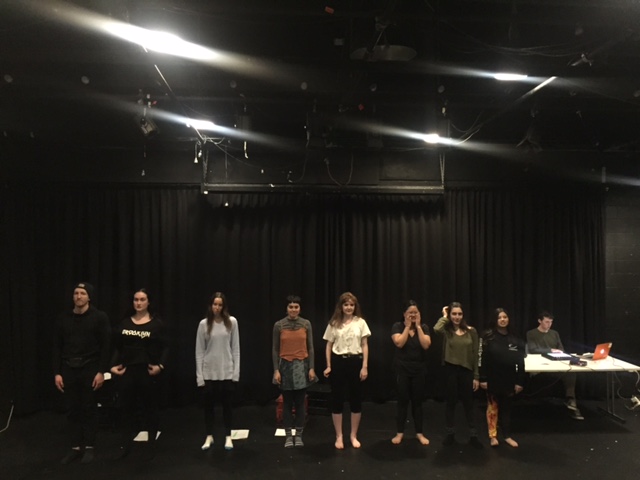 If you are as keen as I am to find out more about the development of How to make a happy meal, continue to follow my journey via this blog, or you can see this whacky, fun, comical and ironic performance yourself live on stage! Book in now: http://thejoan.com.au/whats-on/make-happy-meal/
How to make a happy meal plays at The Joan 10 – 12 August 2017, 7.30pm!
Rehearsal: 19 July 2017, Wednesday
 It's 5pm on a Wednesday evening at the Allan Mullins Studio at The Joan, and rehearsals for How to make a happy meal are underway.
Co-directors Nick Atkins and Claire Tredinnick gather the ensemble in a circle to chat about their week so far, and they move on to act one of How to make a happy meal. The ensemble go through the script, attempt some of their lines and discuss their parts. And right at this point, How to make a happy meal sounds more than just exciting already!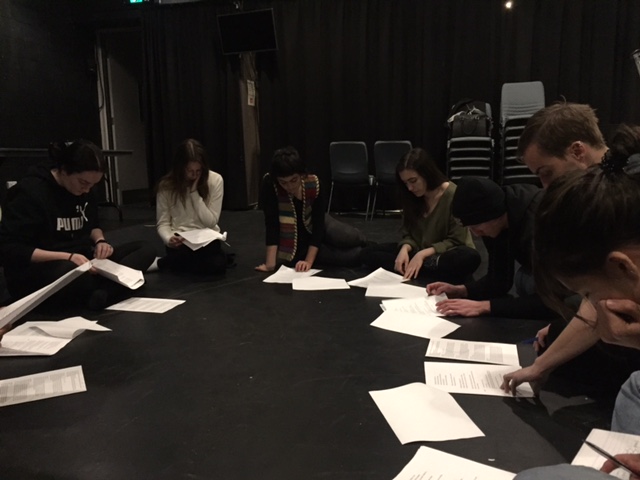 Thereafter, they begin their warm up routine which consists of a zombie game and a ball game. However, today's warm up routine took a slightly different turn. Nick is keen to explore the possibility of using the warm up routine as part of a scene building strategy.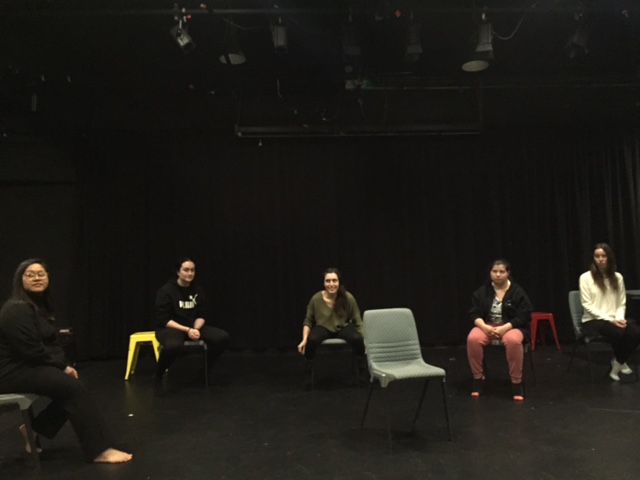 This kicks off with the ensemble deciding on a main character, and a few chairs are arranged in a random formation. The main character will have to walk towards an empty chair in a slow pace with a goal to take a seat, while the rest of the ensemble attempts to fill up any empty chair that the main character tries to target. Amidst all of that running around, a cassette is passed around the ensemble, and the main character has to figure out who is holding on to the cassette at the end of the game.

A cassette? Yes, you read that right, a cassette. The cassette will appear in How to make a happy meal and is an important feature in the performance!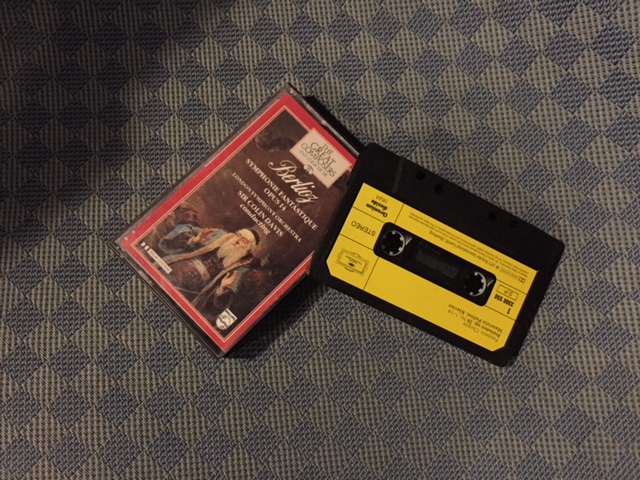 Connie from the ensemble will sing into the cassette, Sophea records a heartbreaking message meant for her partner whom she wants to break up with, and this recording will then be played through a cassette on a cassette player, Emily dances an interpretive solo with a cassette in her hand. All of this, so very quirky, and oh so beautiful at the same time.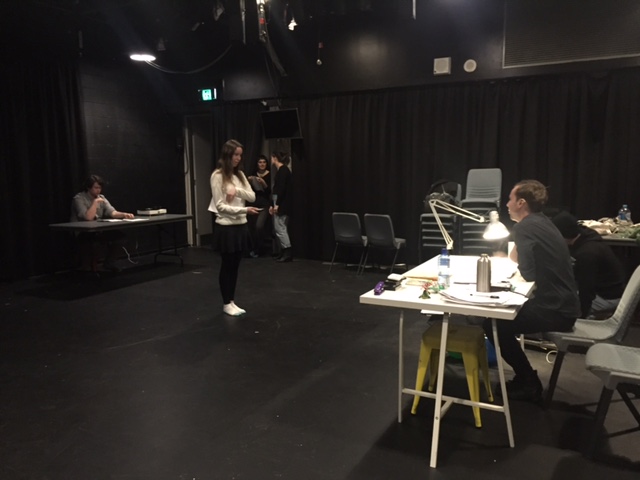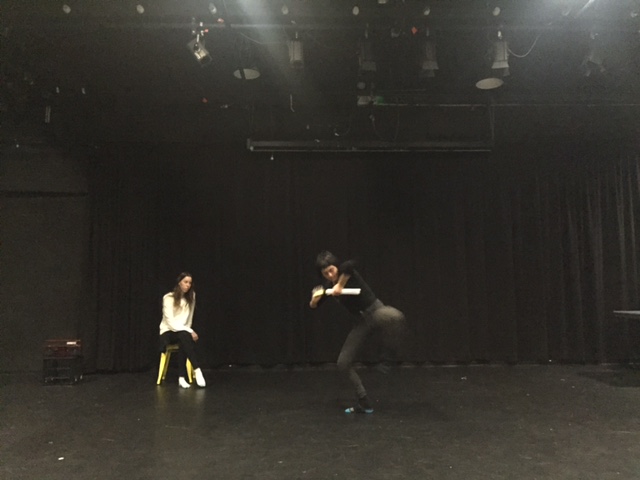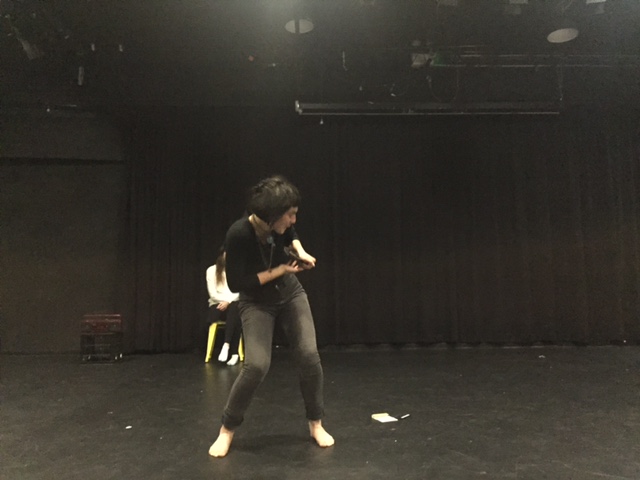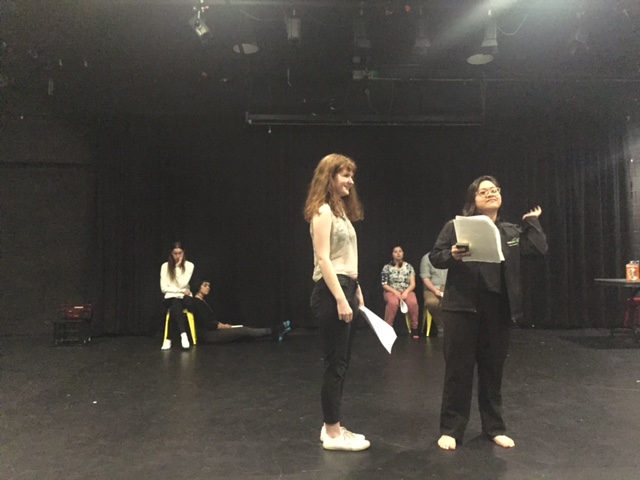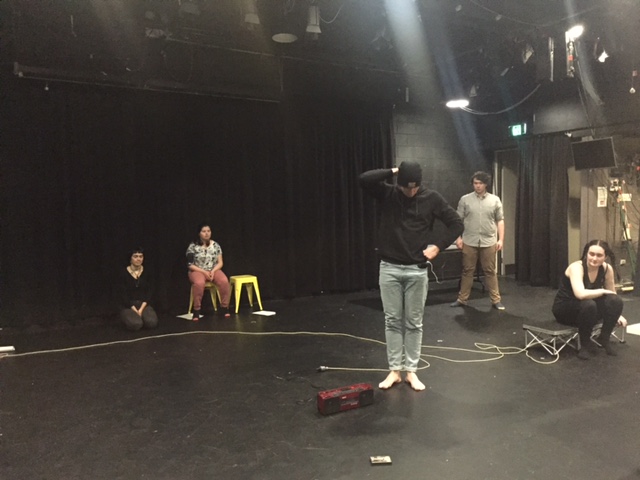 In my opinion, How to make a happy meal is a performance that explores the real, and perhaps even the unspoken. "How to dance like Britney", "How to impress your boss with excel", "How to break up with someone you're not into", are a few aspects that you will encounter in How to make a happy meal. And these aspects, I feel, which are so raw, and so real, will somehow invite you to dig deep into your daily experiences, and at the same time question what makes you happy and the importance of happiness in your life.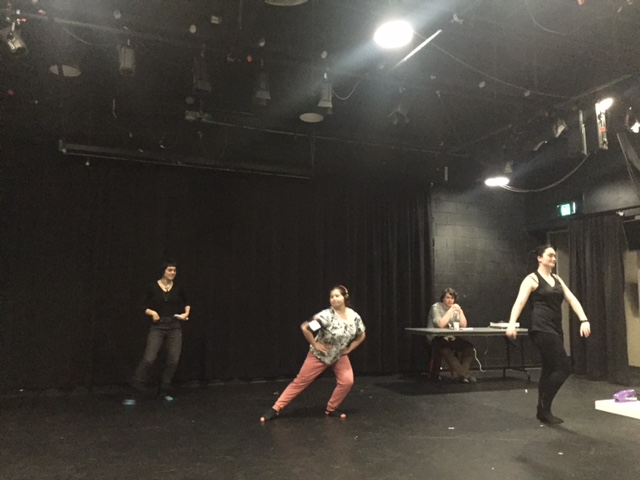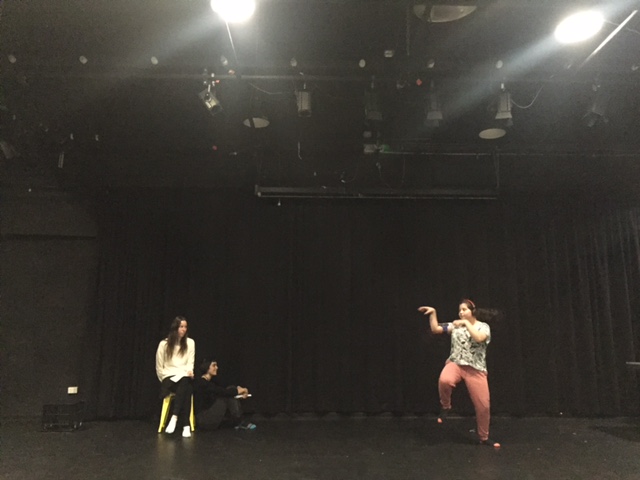 I truly enjoyed today's rehearsal, as not only was I able to get an insight into the process of putting this project together once again, but I was able to experience the beauty of a cross-disciplinary project, where an ensemble with a variety of talents come together to create refreshing and wonderful work. I feel that How to make a happy meal is only possible because of the variety of talents that exist within the ensemble. An intriguing example would be how Tim, a sound artist who samples music and audio clips, actually seems to capture and recreate memories through his work. This idea of sampling music or in this case, sampling memories perhaps, seem to add on another layer to this project, which I feel contributes to the progress of it.
I'm eager to sit into the next rehearsal to see the development of How to make a happy meal! Stay tuned!
Rehearsal: 13 July 2017, Thursday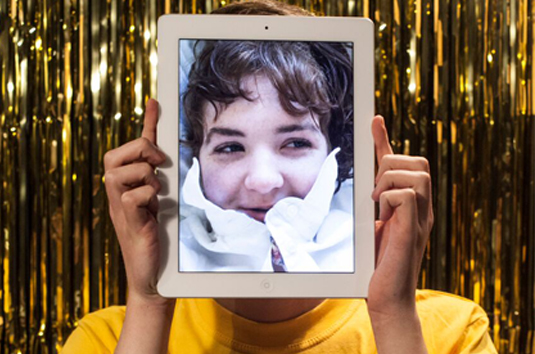 How to make a happy meal is a new devised performance created as part of The Q's Originate project. Now in its third year, Originate upskills early career performance makers working across Western Sydney and fosters a community of collaboration and cross disciplinary creative practice.
The multi-talented ensemble made up of ten young artists from across Western Sydney, is halfway through their rehearsals before the show opens on 10 August.
Their rehearsal schedule from this week onwards will be 2 nights a week (5pm – 8pm).
How to make a happy meal is refreshing because it allows artists who specialise in different art forms (from musicians to beat poets), and artists from different age groups, to collaborate and experience the beauty of a multi-disciplinary project.
I have been offered the grand opportunity to sit into their rehearsals to find out more about the process of putting together this amazing brand new work. Prior to this, Q Programs Producer, Nick Atkins, gave me a brief run down on what to expect from rehearsals and an overview of the progress of How to make a happy meal so far. For starters, they started out with no title at all!
Over the course of their rehearsal process, they had discussions and conducted research about the idea of happiness, if we should all be happy, and the idea of "real" happiness if there is or if there should be one. They researched people, places and objects that epitomise happiness for each decade over the past 110 years.
https://www.ted.com/playlists/4/what_makes_you_happy
These discussions go onto a drawing board, which they lay out at every rehearsal to serve as a reminder, or just so that they can always return to it whenever necessary.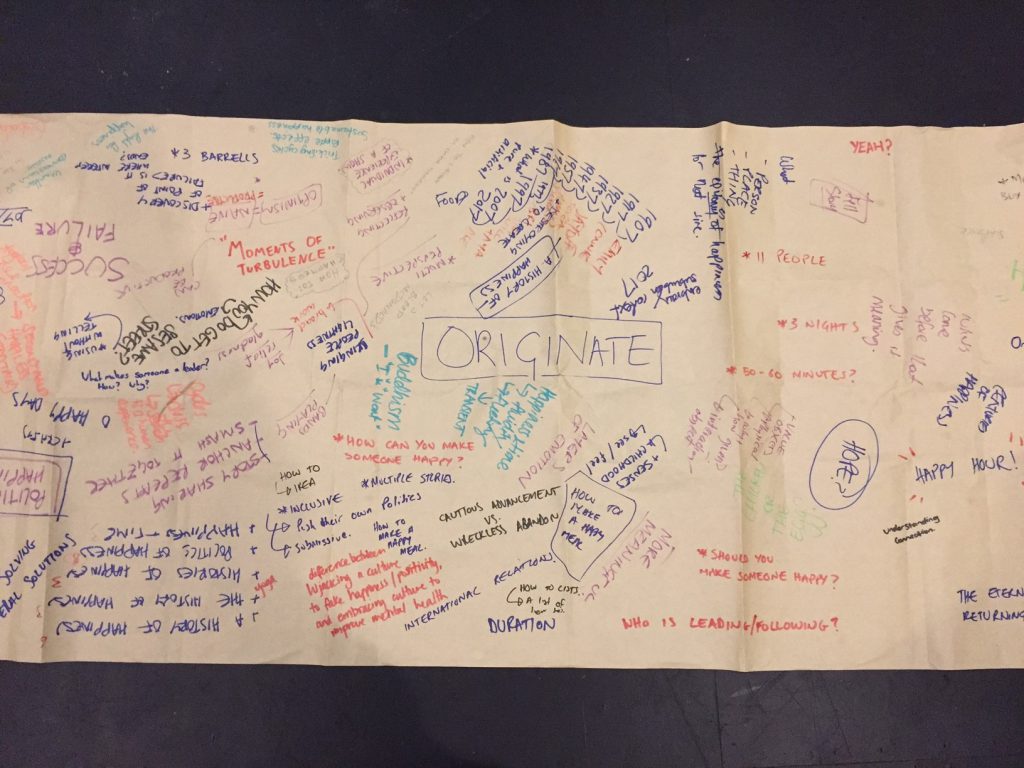 One of their discussions led to the history behind the famous Mcdonald's Happy Meal, created in 1979, (http://content.time.com/time/nation/article/0,8599,1986073,00.html) which is particularly very interesting.
The project has definitely evolved and has now led to the ensemble exploring instructions to different processes that will lead us back to the idea of happiness:
How to transplant a kidney
How to date a human
How to dance like Britney
How to relax
How to smile when you're sad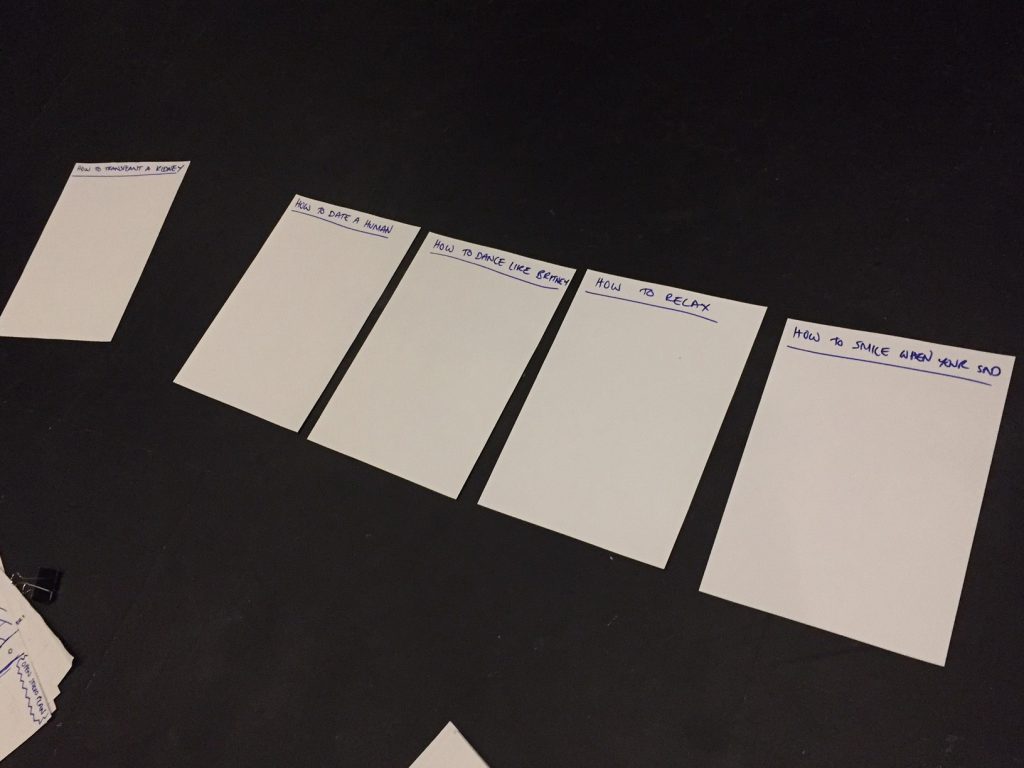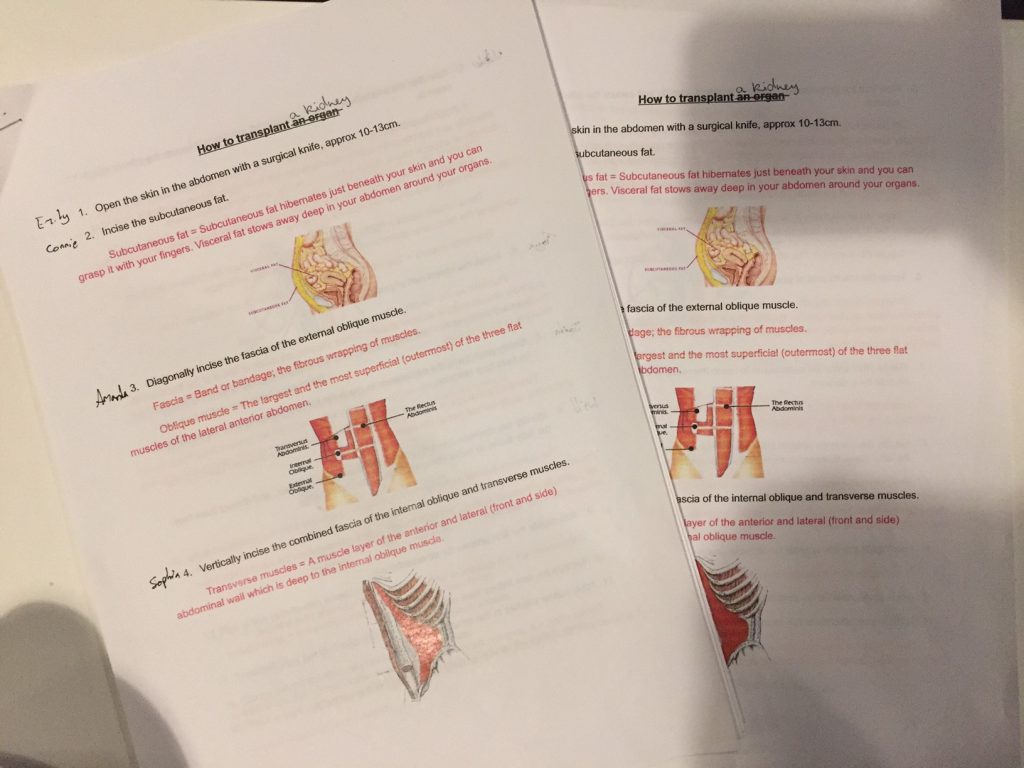 At this stage of rehearsals, the ensemble still needs to develop (and eventually finalise) their "How to" instructions and I definitely saw that happening.
At 5pm when rehearsal kicked off, the ensemble warmed up with a zombie and ball game, spoke a little about their progress so far, and they dispersed around the studio to work on the development of their individual ideas. Some brainstormed in pairs, while others preferred working alone.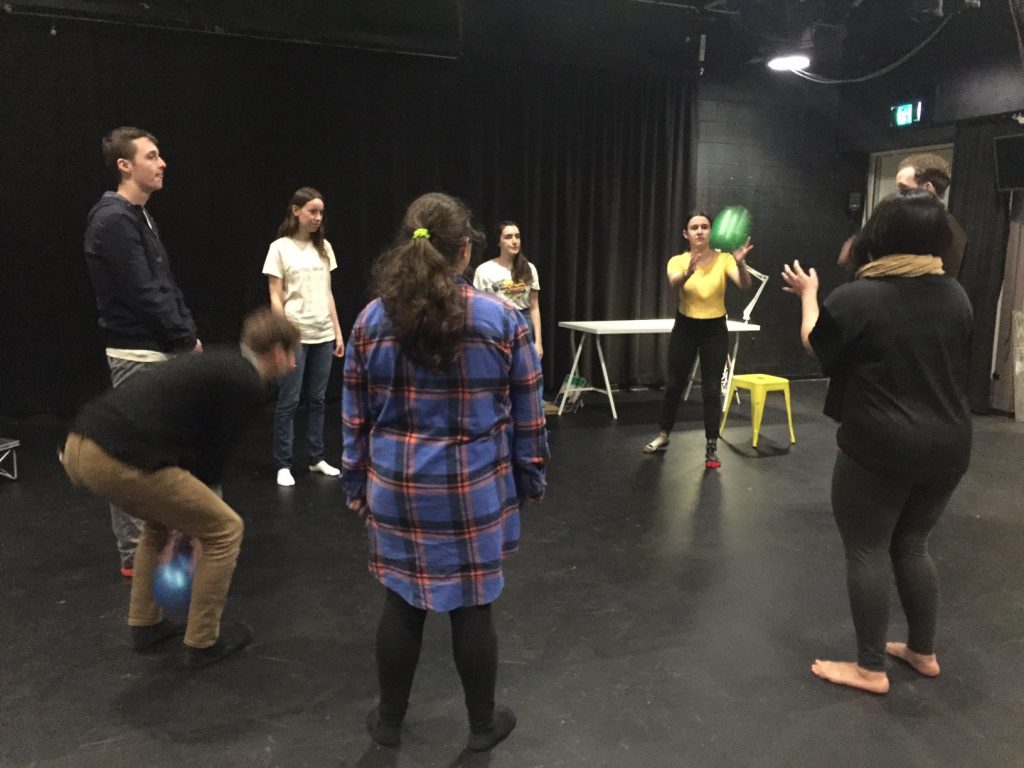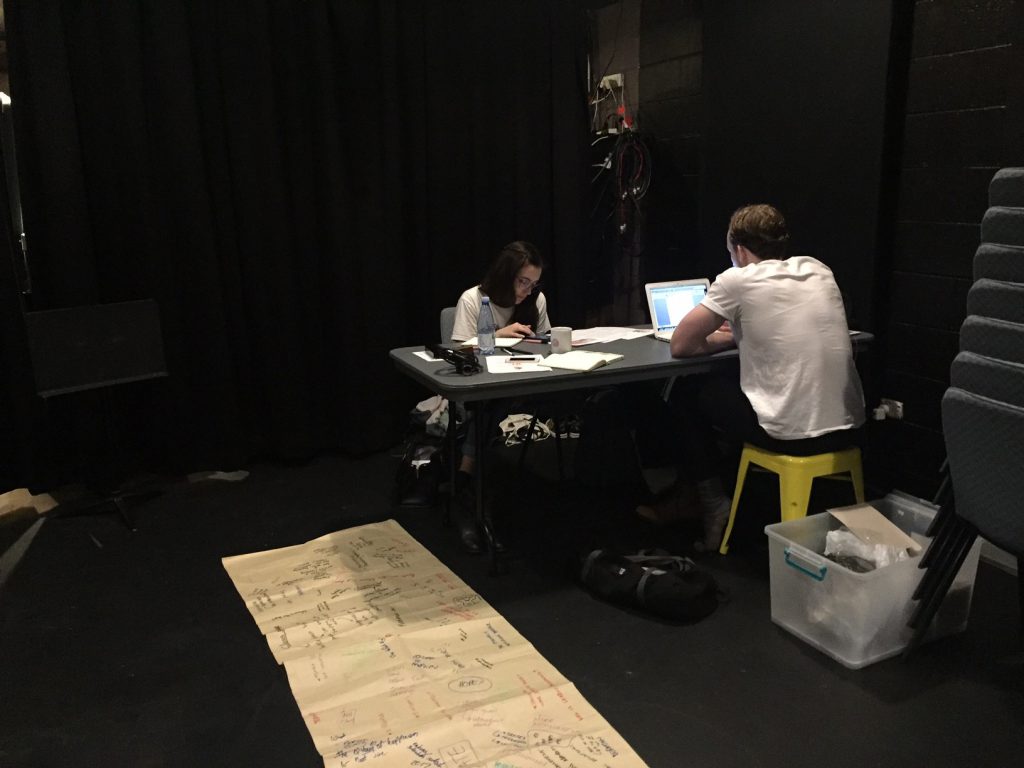 I was drawn towards Connie, from the ensemble who sang Dean Martin's When You're Smiling (https://www.youtube.com/watch?v=jxBgiYOzmQo). She sounded raw and real, and I guess that's exactly what one needs to hear when trying to understand the complexities behind "How to smile when you're sad?"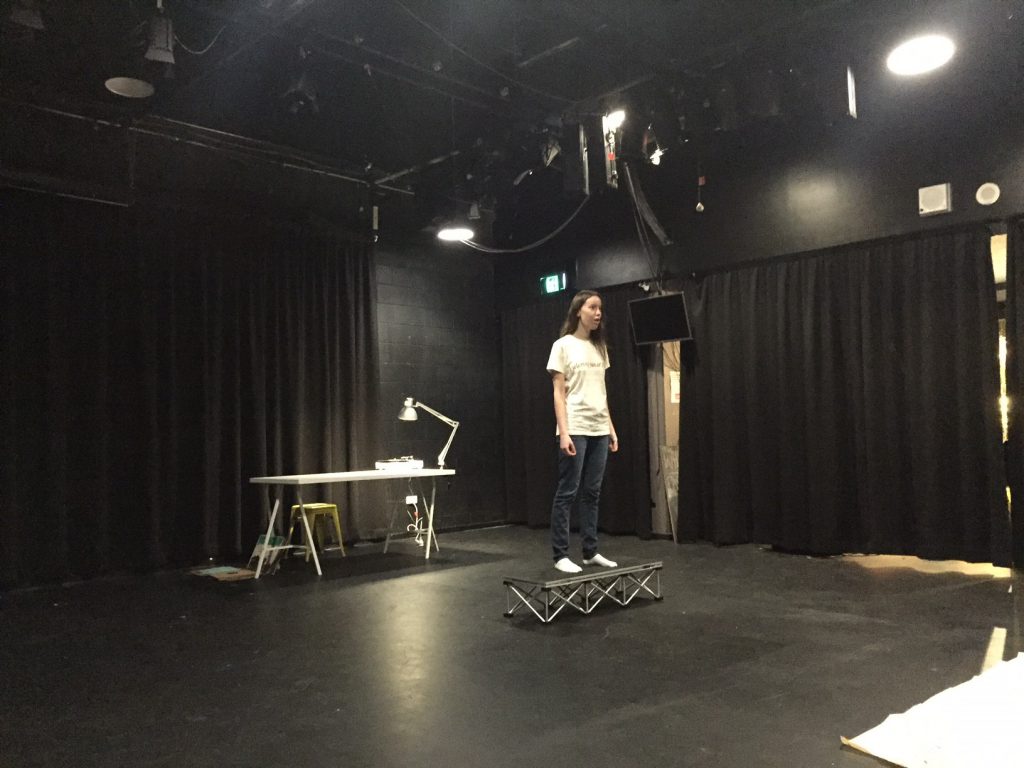 Nick was keen to see Connie and Tim, a sound artist work together and I thought that was brilliant. This collaboration led to Tim experiment with Connie's voice as she sang the lines "When you're smiling, the whole world smiles with you". He manipulated her voice when she sang that line, and also experimented with other spoken lines such as "How long would it take for you to afford to buy a house in Sydney without growing avocados?". This process led to a multitude of compelling soundscapes.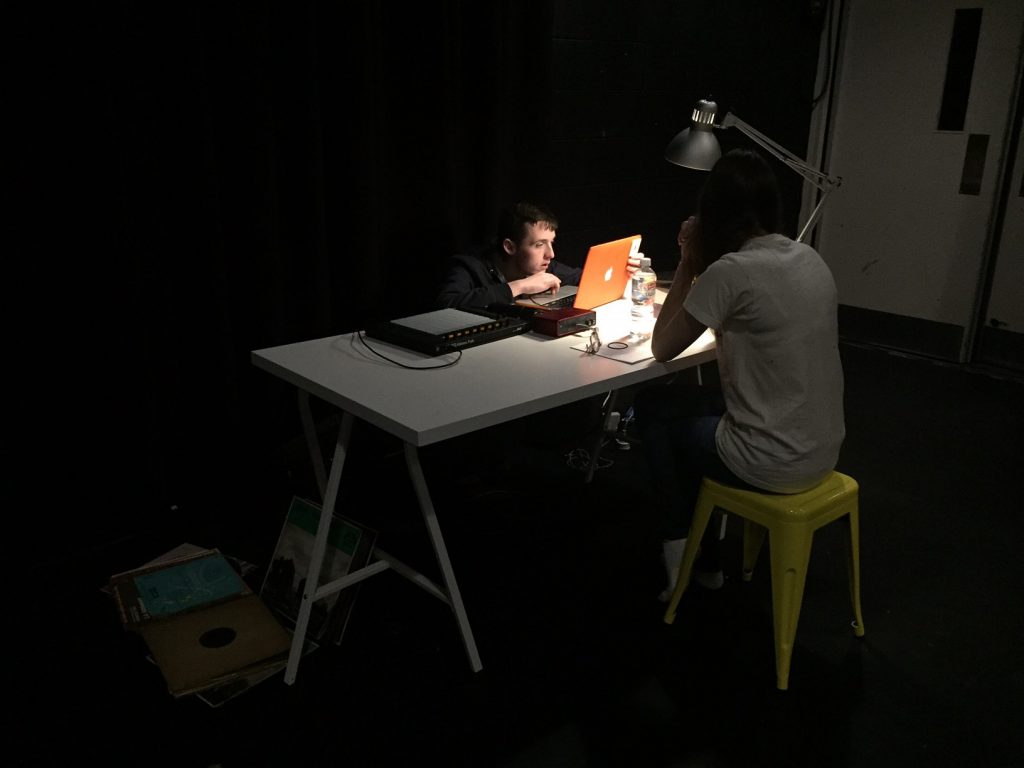 Rehearsals are so much about trial and error and I suppose that's the beauty of this project; the process. Nick feels that the ensemble should be allowed the liberty to express, experiment, investigate as much as they can and want to, as that is the concept behind The Q's Originate project.
It's very exciting to see how this project progresses while the ensemble gears up for the actual performance in August! Everything is coming together for sure, with a photographer who was present to snap some marketing photos too!
The photoshoot set up somehow ties back to this project being a process too – I love the makeshift look of it, it has so many possibilities.
As I look forward to the next rehearsal session, I'm taking some time now to absorb the fascinating fact that this project by an inspiring ensemble with the guidance of incredible mentors started from scratch, and that How to make a happy meal is created from nothing at all!