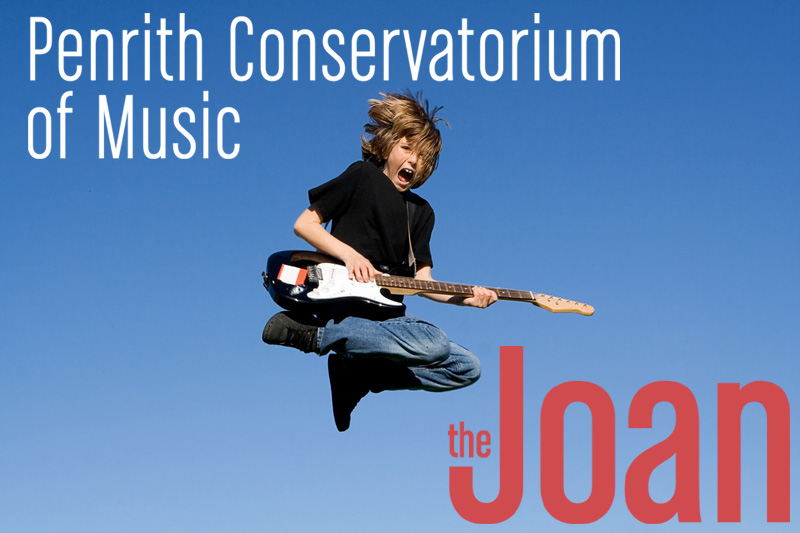 Welcome to Penrith Conservatorium of Music
Penrith Conservatorium of Music offers professional tuition for students, from beginners to concert standard, in most musical instruments including voice, theory, musicianship and composition.
Please see the menu on the right for enrolments, course info and to learn more about us. Please email us if you'd like more information, or feel free to call 4723 7611 / 4723 7600.
New! The Joan Kids Chorus
The Joan Kids Chorus is a new and exciting course at Penrith Conservatorium in 2017. Designed for primary school aged children in Years 3 to 6, the young choristers will have fun as they develop their skills through warm ups and technical exercises, fun songs and rounds as well as learning a diverse range of repertoire.
New! Exclusive Penrith Conservatorium Student Discounts
AMAZING VALUE JUST FOR YOU!
Here at Penrith Conservatorium we believe music education is most effective when participants combine their individual tuition and group learning with regular attendance at high quality performances. That's why this year we've put together an incredible offer to make it possible for you to come to the outstanding professional music concerts that are on here at The Joan in 2017.
As a student of Penrith Conservatorium you can get two tickets to any of The Joan's 2017 Summit (Fine Music) and Piazza (Sunday Sessions) concerts for just $15 per ticket!
For some of the concerts that's a saving of $50 per ticket off the concession price. Because it's such a great offer there are a couple of conditions to be aware of:
1. You can book a maximum of two tickets per concert and at least one of the two people attending must be a student of Penrith Conservatorium.
2. There are limited numbers of tickets available at this price for some of the concerts, so get in quick.
3. There is a booking fee of $4 per transaction (except if paying by cash at box office).
4. You can book online (using the code that was emailed to you in the Term 1 Conservatorium E-News – if you don't have the code please contact Conservatorium Coordinator Claire Harvey), in person or by phoning our box office on 4723 7600
Ensembles  
Nothing beats the infectious joy that is created by playing and learning together in an ensemble.
The Joan Kids Chorus Tue & Fri 4.30-5.30
Opera Ensemble Tue 7-9.00
String Ensemble Tue 5.30-6.00
Music Theatre Thu 6.30-8.30
Download our latest Conservatorium brochure here.
About Penrith Conservatorium of Music
Penrith Conservatorium of Music is the heart of music education in Penrith and neighbouring local government areas. Located in the centre of Penrith, Penrith Conservatorium of Music has been providing quality music education programs for over twenty years.
Boasting some of Australia's finest music teachers, Penrith Conservatorium of Music (situated in the Joan Sutherland Performing Arts Centre) offers a full range of instrumental, vocal and ensemble studies for all people, regardless of age or ability, whether for pure enjoyment or professional development. Performance opportunities are also readily available, to complement the teaching program.
History
Penrith Conservatorium of Music commenced operation in 1990 with nine teaching studios, six teachers and 40 students. The Conservatorium now boasts 27 studios, 20 teachers and over 300 students. Uniquely, the Joan Sutherland Performing Arts Centre is the only performing arts venue in Australia that has a significant music teaching facility incorporated as a prime function of its operation.